"For I dipt into the future, far as human eye could see, Saw the Vision of the world, and all the wonder that would be; Saw the heavens fill with commerce, argosies of magic sails, Pilots of the purple twilight, dropping down with costly bales"
Extract from Alfred, Lord Tennyson
Limerick Steamship Company (founded in 1893) and Palgrave Murphy Ltd (founded in 1835) were the two leading ship owners, stevedores and agents in Ireland .They merged their interests to form The Hibernian Transport Group in the early 1960's.
This venture ceased trading in 1970.
ARGOSEA SERVICES LIMITED was formed by six members of the middle management team of Limerick Steamship Company (with over 110 years of maritime experience between them) to provide ship agency in the ports of Limerick, Fenit, Galway, Ballina and Westport to ship owners who had previously been customers of Hibernian Transport Group.
The first customer to sign up to the new venture was Esso and very quickly many other owners appointed Argosea as their agents in the West of Ireland.
In 1972 it was decided to expand into stevedoring and ship agency in the port of Foynes.
Regularly up to 200 men were employed in the loading of cargoes such as Frozen Beef, Bagged Sugar and Moss Peat in bales and the discharging of bulk cargoes like Coal, Fertilizers, Grains and Molasses.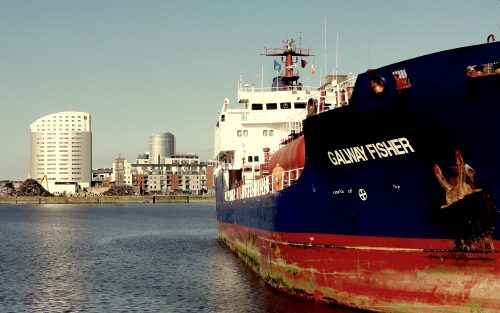 In 1976 Argosea were appointed by Ocean Inchcape to provide agency, stevedoring, warehousing and forwarding services to the new Offshore exploration industry drilling for Oil and Gas off the west coast. All the major Oil and Exploration companies were serviced by Argosea in the ten year period that this business lasted.
With the opening of the giant alumina plant in Aughinish came the appointment of Argosea as agents for Bauxite and Alumina carriers at that port.
In more recent times we are pleased to be actively involved in the renewable energy industry.
OUR VISION
To continue to be recognised by our clients and the market, nationally & internationally, as the leading and most progressive shipping services partner in the south of Ireland, renowned for our strong personal service, reliability, expertise and value for money, delivered by a knowledgeable, caring and motivated team.
OPERATIONS
Argosea Services Ltd., The Pier, Foynes,
Co. Limerick, V94 F6W3, Ireland.
Tel: +353 69 65325
Fax: +353 69 65271
Email: foynes@argosea.ie 
Telex: 70668 ARGF EI
Foynes Operations Crew:  (After Hours)
Duty AOH: +353 87 2198121
Darragh Staunton: +353 87 7728000
Patrick Malone: +353 87 2941970
Robert Reidy: +353 86 0454852
Fergal Clohessy: +353 87 6936443
Raymond McNamara: +353 83 1981874
ADMIN FINANCE & OPERATIONS
20A Henry Street,
Limerick V94 EK68, Ireland.
Tel: +353.61.413833
Fax: +353.61.413281
Email: limerick@argosea.ie 
Telex: 70668 ARGF EI
Limerick Operations:
Niall Brennan: +353 87 2549197
Peter Ryan: +353 87 2599775